Where it All Started
Believe it or not, creativity, in our world, starts with reaching out to our roots! SOZO started with a set of fun home-kitchen experiments by the founders, Dushyantha De Silva and Gianee De Silva, back in 2016.
What Drove Us..
The idea was simple: Why consume artificial flavour when you can enjoy real goodness?
Ever since, it's been a wild, wild ride! Was it going to be easy? No. Were we expecting it to be? NO! We often take the roads less travelled, and take on tough terrains, to the far off corners of the island, in the pursuit of fresh and exotic produce, which helped us rediscover ingredients that belong natively to Sri Lankan soils.
We put imagination back in the recipes, carefully combined flavours that are fun, and  batch after batch, bridged the gap between quantity and quality standards, delivering a crowd-pleaser on the rise.
One step at a time, we took SOZO out to 300+ locations in Sri Lanka, to over 15  venues in the Maldives including high-end resorts, to gourmet stores in Switzerland and  Hong Kong, and are on our way to many new markets across the world.
SOZO is Exotic
Our super smooth (till the very last sip) Iced Teas are crafted by brewing real Ceylon Tea leaves. The word Bitterness doesn't exist in our vocabulary! Our imagination runs wild when it comes to fruits as our little island is home to so many exotic varieties! Every sip of SOZO is a sip of paradise!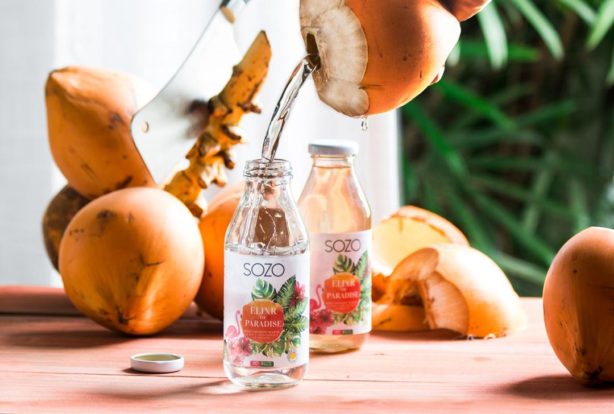 All Natural
Because we use a proprietary bottling technique, SOZO products have a shelf life of 1 year without the use of any preservatives and no cold-chain storage is required either. SUGAR is a growing concern but since we only use natural ingredients, there's really no odd tastes to mask or hide behind layers of Sugar. SOZO's contains up to 40% less sugar than most commonly found beverages!
Harm Less, Care More
The planet is our boss and we're committed to making it happy. So far, with our zero plastic, 100% biodegradable packaging, we've successfully saved our environment from over 24 tonnes of plastic waste. Want to be a part of our green squad? Return every SOZO bottle you consume for SOZO Rewards Points™—a loyalty programme designed to make you smile, and the Earth, a better place.
Our farmers are our superheroes. Superpowers? Growing the island's freshest produce. Every fruit, flower, herb, spice, and tea that goes in a SOZO is traceable. The secret to this lies in sourcing directly from the farming communities, often paying above the 'market price', to empower them. So, every time you grab a SOZO, you help us make a difference. Small joys but big wins!
#TheSOZOLife
#TheSOZOLife is the extra kick to your workouts, the passion to your adventure escapades, the fun to your holidays, and the zing to your life. It's also the warmth that makes at-home dinners special, and the party vibe that keeps your spirits high for those cocktail night outs! With our beverage partnerships, bar takeovers, and tastings, with some of the best lifestyle brands around, we're all about giving the best of tropical island life experiences in your hands, for you to experience it your way!
We're always happy to see how we can work together. Just drop us a line and let's get this show on the road!